Russia: Mikhail Kosenko's conviction highlights widescale political abuse of psychiatry
9 October 2013
Yesterday a Russian criminal court found Mikhail Kosenko guilty of taking part in a riot in and using violence against police officers in May 2012. The court sentenced him to indefinite psychiatric detention.
"This case has attracted massive media attention because it represents a return to the political abuse of psychiatry", said Oliver Lewis MDAC Executive Director. "However, over 100,000 people are detained indefinitely in psychiatric institutions across Russia without any fair trial guarantees. Each of these people is a victim of a political decision to maintain a gulag system of abusive institutions which are used as social dustbins."
Kosenko was arrested while taking part in a rally demanding free elections (skynews.com)
Inside Russia's institutions, people are forcibly treated with old style medication, stripped of their right to autonomy, suffer various forms of ill-treatment and ultimately are denied the right to live in the community. Health and safety standards are so lax that deaths caused by fires are a common occurrence.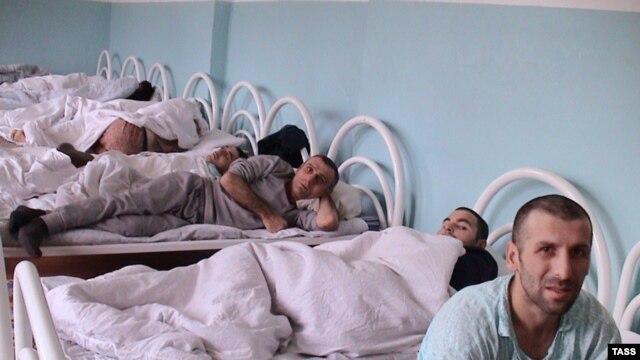 Psychiatric institution in Russia (rferl.org/ITAR-TASS)
Sky News reported that 12 years ago Mikhail Kosenko was diagnosed with a mild form of schizophrenia, "but was being treated successfully on an outpatient basis, and medical records revealed to a human rights group state he was not prone to aggression and had experienced no violent episodes." The Washington Post added that his sister has said that, "He organised his own small world. He's very quiet. He's not very communicative. He reads a lot."
Human Rights Watch commented:
"The charges were grossly disproportionate, the evidence presented at trial was very weak and now, after 16 months behind bars, he's being held for forced psychiatric treatment, which in and of itself can be a form of torture."
Amnesty International's opinion is that:
 "Involuntary psychiatric treatment should only be used in cases of severe mental illness when it is likely that that person will cause immediate or imminent harm to themselves of others."
MDAC reiterates that a criminal conviction on the basis of such weak evidence is a breach of the right to fair trial, and that a criminal conviction for taking part in a non-violent protest is a breach of the right to freedom of assembly. Amnesty International has rightly called Kosenko a "prisoner of conscience".
There are hundreds of thousands of other people in Russia's psychiatric system who are not as famous, but who also deserve the world's attention. To date, Russia has failed to undertake systemic reforms to close huge psychiatric and social care institutions, in line with its human rights obligations under international law.
front page picture: Human Rights Watch
Tweet